UkSATSE - Assistance to the Project Implementation Unit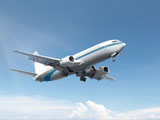 The European Bank for Reconstruction and Development is in the process of providing a loan to the Air Navigation Service Provider of Ukraine (UkSATSE) in order to finance the time critical upgrading of hardware and software essential for efficient Air Traffic Management.
APAC was contracted to support the Project Implementation Unit (PIU) in the preparation of the tender documents and the provision of technical and operational support for the works, goods and services to be procured. This task also includes a review and amendments to the procurement plan, assistance in optimising the tendering strategy, preparing the tender documentation in compliance with the EBRD Procurement Policies and Rules, a review of the technical information for compliance with SES legislation and the ICAO/EUROCONTROL requirements.
APAC will support the organisation and management of the tendering process for the works, goods and services to be procured. The assignment also includes subsequent contract implementation and administration support. APAC will be responsible for the review of the interface between the various contracts, monitoring of and reporting on the progress/costs against the timetable and cost estimates including reporting to the EBRD and the review of UkSATSE's risk management activities applicable to the procurement process.